It is time to get some light in the entry.  Enter this chandelier:
Last we left the entry story saga, we tore out some big closets, opened up a locked up door, and decided to drywall over an unused door.  While we made some progress on the walls, we needed to address the lighting in the entry.  That's because the only lighting in the old entry was this:
And those lights are no longer with us because the wall they were on is long gone.  Well, we also had a light from the former closet (right next to the hidden stripper pole), so was very off-center for the room:
Because we are going for the big, grand entry (well, not so grand but definitely big-ish), we need a light that will be a focal point for the entire room.  So this was the inspiration chandelier from Restoration Hardware for about $795, with a few hundred dollar swing, depending on size: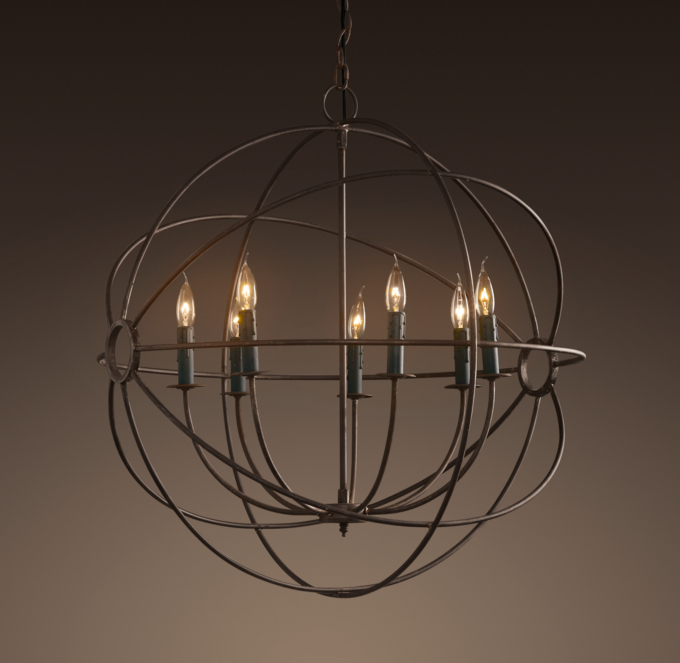 While I love it, that price tag was a little hard to swallow.  So I looked around and found this one instead, that achieved the same look for less than $400:
Out came the credit card.  Two notes here:  1) we totally got rid of that dorky-crystal-hangy-ball at the bottom of the light; and 2) I don't see the size of light we got, but this is a slightly bigger version with a correspondingly bigger price tag.
Here is our installed knock-off RH light in all it's nighttime lit-up-glory:
In addition to the big chandelier, we also added in two small recessed lights, one on either wall perpendicular to the front door wall.  These lights aren't particularly sexy, but they do swivel, light up the room, and are excellent at setting the mood.
We looked at a bunch of options but went for some very inexpensive ones from Home Deep that get the job done.  We tried to be forward thinking with our lighting needs, so placed the spotlights to showcase future art.  I use the term "art" very loosely here – it will probably be something I whip up to fill up that huge space.  Sadly, my only artistic qualification is that I recently took a wine/painting class with some girlfriends (I painted pears, not cute).  So no decisions on art yet.  But even without the wall art, you can see where art will be one day – in that huge, bright, spot on the wall (and another one on the opposite wall).
Overall, we are thrilled about the new lighting, and especially the less expensive price tags on the chandelier and two spotlights.
Anyone else go for Restoration Hardware knock-off lighting?  Or put in art lighting, in hopes of one day actually having art to be all lit up?  Guess I'd better get on that art thing soon . . .
B